Jump to recipe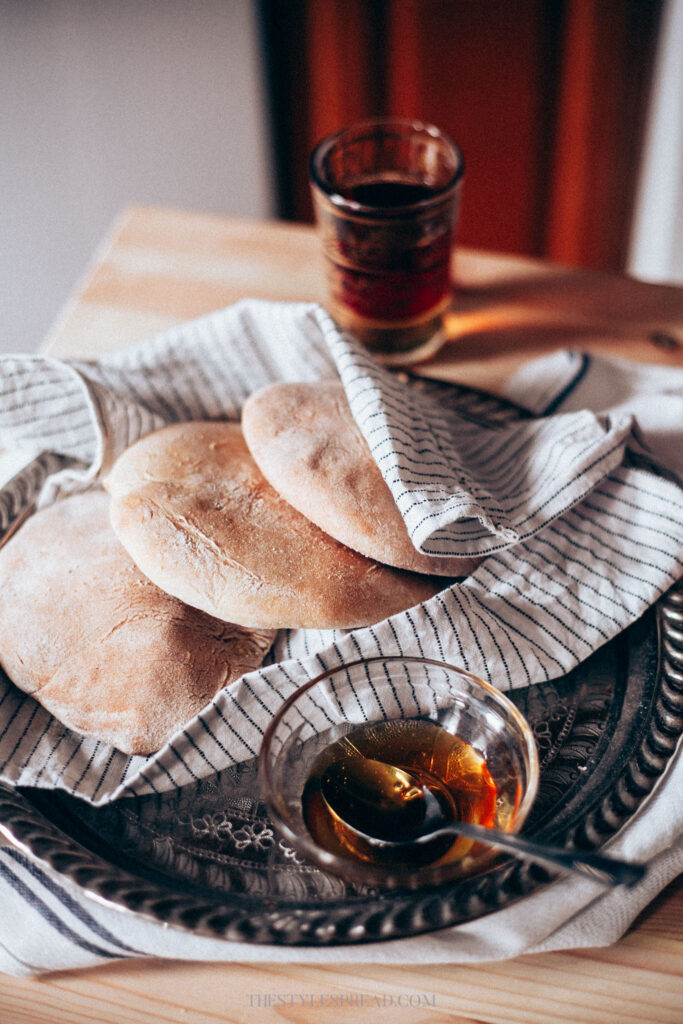 I have not traveled in a year and two months. But the worst is not being able to visit Morocco anymore; it holds a very special place in my heart. If you know me you know that my dream as a child was to visit Morocco. Apart from that, do you know what I miss the most? The bread! So, what better way to travel than through a Moroccan bread recipe? Let's go make some khobz.
What is khobz?
For those who wonder what khobz means, it means bread. It is Moroccan Darija spelling, not traditional Arabic spelling. However, the word khobz does derive from the Arabic word for bread, hoobz. I will try to go into the differences in another blog post. For now, let's get started on the khobz.
So, I remember seeing this round bread everywhere in Morocco. I would even see men pushing carts full of these delicious round loaves. Please see the image below. It's not hard to wonder why though. The khobz is a Moroccan staple for breakfast, lunch or dinner. I personally love it with some ground beef. But it can be enjoyed with so much; it's so versatile.
Ingredients
INGREDIENTS

4 cups of white flour
2 cups of warm water
1/4 oz of dry yeast
1 tsp of sugar
3 tsp of salt
corn meal
olive oil
Instructions
INSTRUCTIONS

In a bowl, add 1 cup of warm water and mix it with the yeast. If the yeast has not activated, add a pinch of sugar. This will give the yeast something to feed on
In a separate bowl, mix the flour and salt
After yeast has been activated, you can start combining it with the flour. Pour little by little ensuring that you're mixing the flour well
Start mixing in the other cup of water if needed. Make sure flour is sticking together
On a floured surface, start kneading the flour. Have some flour handy so you can add to the dough if it's too sticky. Patting your hands with flour will prevent the dough from sticking to your hands. Do this for 10 minutes until dough is no longer sticky
Separate the dough into two separate pieces and place on a pan. Leave to rest for 15 minutes
Now, start making your round loaves. You can make them any size you want but for this recipe, let's keep it at a 6" diameter. Take a piece of dough and roll into a ball. After this, pat it down to make it into a round disc. Don't make it too flat
Sprinkle cornmeal on a baking sheet lined with parchment paper
After your rounds are made, place them on the baking sheet with cornmeal. Cover and allow the rounds to rest for 45 minutes. You can use a kitchen towel to cover. Preheat your oven to 400°F
Now, place them in the oven. Wait for about 20 minutes. You'll be sure they're done when they brown a little and have a crusty exterior. A quick trick is to tap it and if it sounds hollow, then you know it's ready
Place the freshly baked rounds on a cooling rack and cover with a kitchen towel