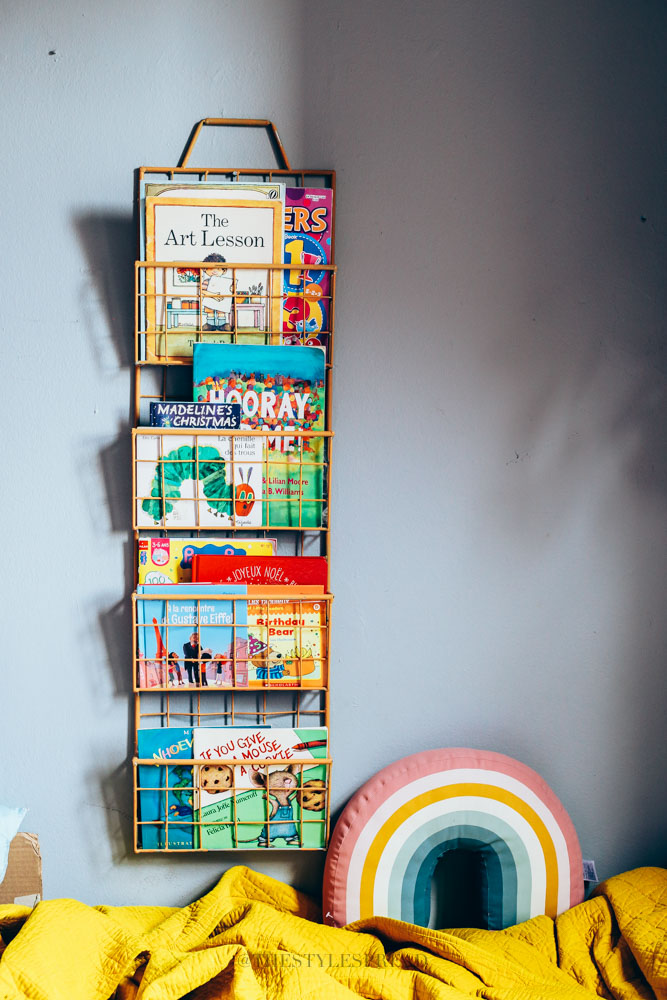 I've had an obsession for Scandinavian decor, especially when it comes to kids' rooms. I love the wood accents, reusing old pieces and even the raindrop decals. And there's definitely something alluring about the simplicity and contrast between colors.
1. Wall Color
I tried replicating the Scandinavian style for Magdalene. As you can see from the picture above, I chose a grey for the wall color. The paint is called Meteor Shower by Behr. I wanted to choose a grey with a hint of blue but decided it may not work when taking pictures.
2. Pops of Color and Texture
I made sure to make the bedding and pillows colorful and of different textures. Most of the colors used were mustard yellow, pink, cloudy blue, and reds. The yellow stitched quilt from above was purchased at Target. Stitched quilts are a must when trying to get that Scandinavian vibe. The rainbow pillow is from the H&M Home Kids collection. Ikea also has a lot of Scandinavian-inspired bedding and furniture. After all, their roots are in Sweden.
3. Renovate Old Pieces
I didn't do much renovating but I did salvage a magazine rack I was going to toss. The book rack above was originally a metal magazine rack. It didn't serve me any purpose since I stopped reading magazines and the silver color reminded me of a doctor's office.
I decided to use a little of the yellow paint I used for the walls to paint it over. It would be best to use spray paint but living in the city gives you little options.
Alas, we have a fun yellow book rack for all of Maggie's favorite books.
4. Think Foreign
Always include a foreign piece or even a map. Think of your child as the little traveller. The one piece I used was the Moroccan pouf we purchased in Morocco. I just love the pop it gives. You can find a similar pouf in stores like World Market. Some people like to fill it in with newspaper but I use it as a hamper. I place all of the clothes in a laundry bag and stuff it in the pouf. It's great cause once the pouf is filled, I know it's time to do laundry.
5. Include Wood
Wood accents are important in any Scandinavian bedroom. I don't have a lot but even a little wooden coat rack can do the trick. Hang up your child's cutest trinkets. I hung up her birthday tutu since it's like a statement piece.