Jump to recipe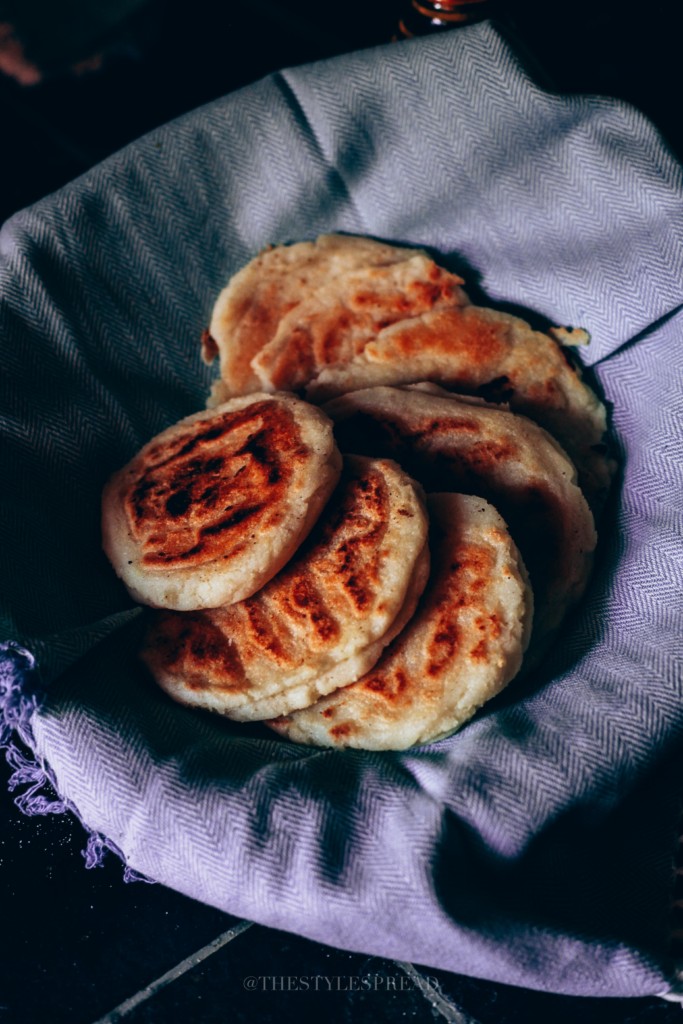 The arepa is such a popular meal in Latin America, especially in Colombia and Venezuela. It's so popular that the origin of it has not been settled. Historians believe it originated in either Colombia or Venezuela. It may have been that the countries created it simultaneously since they share borders.
Origins:
One thing is for sure, and it's that the arepa has indigenous origins. To make cornmeal, indigenous women would chew corn and make a paste out of it. Or the corn would be mashed between two stones. Today, a similar technique is used with the pilón. The pilón can crush the corn and grind it until it becomes malleable. With the pilón, you can create this cornmeal at home.
I was motivated to make arepas after watching the Colombian soap opera La Vendedora de Rosas. It's a true life story that's beautiful yet sad. Throughout the soap opera, you can see that the arepa is a major staple of Colombia. There is no specific time or place in which an arepa should be eaten. You can eat it whenever you want and with whatever you want.
Colombian Arepas de Queso (Cheese Stuffed)
Ingredients
1 cup of pre-cooked white or yellow cornmeal
1 cup of grated mozzarella or ricotta salata
1 cup of water
1/4 teaspoon of vegetable oil
shredded mozzarella cheese
Instructions
In a medium bowl, mix cornmeal and grated cheese. After these ingredients have combined, add the cup of water and vegetable oil. Mix until everything is combined and the mix doesn't crumble into balls. Let the mixture sit for four minutes so the water can soak into the cornmeal.
Depending on the size you want the arepas to be (preferably 1/3 inches thick), grab a ball of the mixture. Start flattening it between your palms. The effective way for me is to slap it onto the palm so it won't stick.
Make sure the arepa doesn't crack. If it does crack, mold it with your fingers. A useful tip is to lay the patty on a baking sheet and mold the edges.
After you lay the arepa on the baking sheet, sprinkle a little of shredded mozzarella cheese in the middle. Make sure to leave a circle surrounding the cheese.
Make another arepa patty and lay it on top of the patty with cheese. Ensure you have sealed the edges and didn't leave any air in the center of the arepa.
In a skillet over medium heat, spread a tablespoon of vegetable oil. Transfer the arepas from baking sheet to skillet. The easiest way would be with a spatula to make sure it doesn't fall apart. Cook on skillet for 5 minutes on each side or until a golden crust forms. Do not try to turn the arepa after two minutes. This won't allow the crust to form and will break your arepa.
Remove excess oil by placing on a napkin or paper towel.
Serve warm and enjoy.
SaveSave
SaveSave
SaveSave
SaveSaveSaveSave
SaveSave
SaveSave