Jump to recipe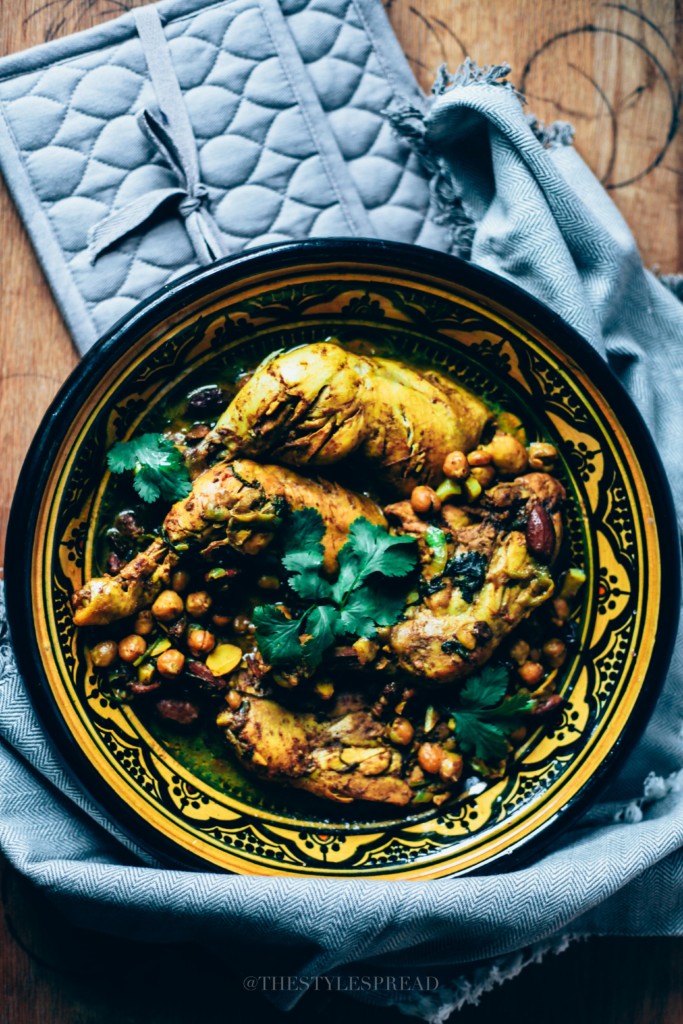 I finally decided to share my Moroccan chicken tagine recipe. I have been making it since the summer last year. Although this dish wasn't made with traditional Moroccan cooking techniques, like preserved lemons, this one is still very reminiscent of a Moroccan dish.
The yummiest part of the dish are the sweet raisins and crunchy almonds. Serve the dish with a side of couscous and your tummy will be happy.
Ingredients
2 tbsp. of olive oil
2 tbsp. of butter
5 chicken thighs, skin removed
1/2 tbsp. of salt
1 whole onion sliced
3 cloves of garlic, chopped
1 tsp. black pepper
1 tbsp. turmeric
1tbsp. cumin
3/4 tbsp. coriander
1 tbsp. cinnamon
2 tbsp of fresh chopped cilantro
2 tbsp. of fresh chopped parsley
a handful of a mixture of whole dry roasted and sliced almonds
2 oz. of raisins
1 whole tomato
15 oz. of chickpeas
Instructions
Place chicken thighs in oil and butter with onions, garlic and all of the spices. Cover and allow to simmer over medium heat for 15 to 20 minutes. Turn chicken occasionally to ensure chicken is cooked evenly on both sides.
Add the chickpeas and whole almonds. Make sure chickpeas are covered in the sauce to cook well. If not, add just enough water to cover. Beware that too much water will dilute the spices. Cover and continue cooking over medium heat for 20 minutes. Turn and stir occasionally.
Add the raisins, cilantro, and parsley. A thick sauce should have formed. Continue cooking over medium heat.
Cook until chicken is tender and chickpeas are soft.
Serve on a tagine and with a side of couscous. Enjoy!
SaveSaveSaveSaveSaveSaveSaveSaveSaveSave
SaveSave
SaveSave
SaveSave