Jump to recipe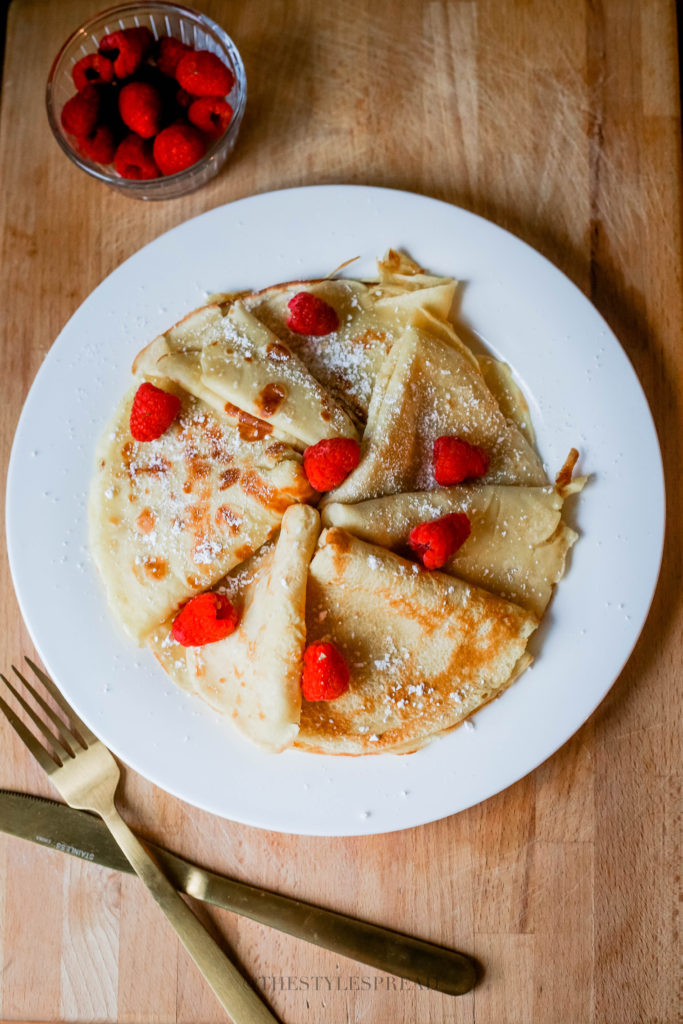 For some reason, many people consider crêpe a foreign concept. Not because the yummy pancake has French origins but they just don't know how to approach making crêpe in the kitchen. Maybe cause they think they need a crêpe maker or special flour. But no, making crêpe is actually really simple and you don't need any fancy gadgets.
Making crêpe is on a par with making pancakes. The batter is simple to make. Now, if you don't want to make the batter every morning, you can make some a few days before and just save the batter in a jar. That's what I do.
I admit that I used to be one of those people who found crêpe fascinating yet difficult. When I stayed with family in Paris, I ate it almost every morning. At the time, I didn't understand how it was so simple for them to go through the process of making it. It's clear now that I was clueless. But, in my defense, I had heard of crêpe makers and special flour. All of these things discouraged me in trying to make it myself.
Check out the recipe and hopefully you too can find the simplicity in eating crêpe for breakfast, lunch and even dinner. Oh and, before I forget, if you want more batter, just double the quantity of the ingredients I've listed.
Simple French crêpe recipe
Ingredients
INGREDIENTS

1 cup of flour
2 large eggs
1 tsp. of vanilla extract
1 tbsp. of melted butter
1/2 cup of milk
1/2 cup of water
Instructions
INSTRUCTIONS

In a bowl, whisk together the flour, eggs, vanilla, milk, water, and melted butter. Whisk until it's smooth in consistency and there are no lumps. Some prefer to use a blender to mix the ingredients but, for this recipe, I used an old fashioned whisk.
Next, place the batter in the fridge for 30-50 minutes and allow it to rest. The reason for this step is that it allows the flour to absorb the other ingredients better. This step is important in making softer crêpe. If you can, it would be great to leave the batter in the fridge overnight.
After the batter has rested, you can now start making. Get a big pan and coat it with butter over medium heat. When pouring the batter, make sure you don't fill up the whole pan. Pour the batter in the middle of the pan. Let there be two inches of empty pan space outside of the batter you just poured.
Tilt your pan so the batter can spread to the empty pan space and fill it up. You will notice that the batter will become thinner when you do this. This is good. You want your finished crêpe to be thin.
A good indicator on when the crêpe is ready to be flipped over is when the edges start to turn brown. Flip it. And there should be no fear in flipping. Your crêpe will not fall apart or fold over. It'll be just fine.
Once your crêpe is cooked stack on a plate. Or you can fold each crêpe as you go. Folding is simple. Just fold in half and then fold in half again. Make sure to cover your plate of crêpe each time so they can stay warm until they're ready to be served.
When finished making all of your crêpe, take out the toppings. You can coat it with Nutella and sliced bananas. Throw in some strawberries and, of course, don't forget to sift your crêpe with powdered sugar. Now, it's ready to be enjoyed.