Jump to recipe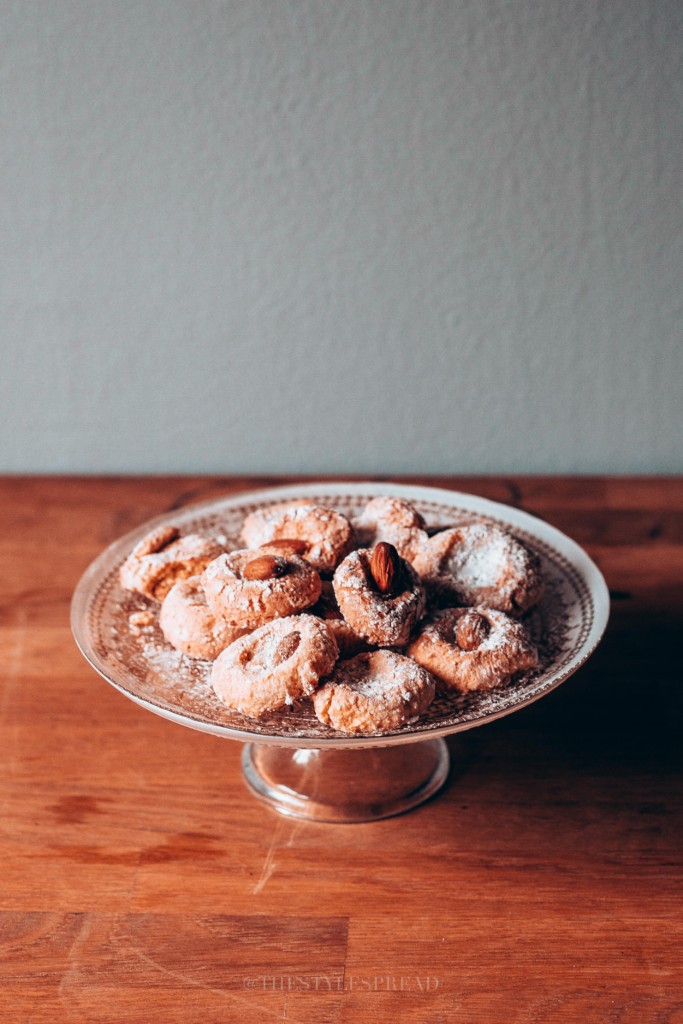 Rainy days call for baking sweets. And not just any sweets but Moroccan sweets! When you miss the country, you settle by making its local foods and indulging in them. What better treat to do this with than Moroccan almond and orange ghriba cookies?
Moroccan ghriba cookies come in various flavors with different ingredients. To make them, you have to roll the dough into little walnut shaped balls. Some prefer to flatten the top and create dents while others will leave as is. However, one thing that does seem to matter to any ghriba is the amount of cracks it has on the top. These cracks are referred to as bahla. I'm pretty sure the ones I made could have used some more bahla.
The recipe I had initially followed missed a big step and was pretty vague. As a result, I must admit, I failed at making ghriba the first time. But with a little research and persistence, the second time was a success; they came out yummy and crunchy. In addition, these little treats filled the room with a sweet orange aroma from the orange blossom water and zest.
Best part of all? While these little almond treats are delicious, they're also great if you're craving sweets but can't eat too much flour-based foods. Moroccan almond ghriba are made of almond meal, eggs, and a little of sugar. Hope you all enjoy them cause I know I did.
Recipe:
Moroccan Almond and Orange Ghriba Cookies
Ingredients
1/3 cup of sugar
1/2 tsp. of vanilla extract
2 eggs
1 tbsp. of Orange blossom water or one orange zest
2 cups of almond meal
1 cup of confectioner's sugar
Instructions
Whisk together eggs, vanilla extract, sugar, and orange zest.
Fold in the almond meal. Do not whisk or blend as the mixture will become like a sauce. We want the mixture to remain thick so we can mold it.
Cover with plastic and refrigerate for 30 minutes.
Preheat oven to 320° F before you start forming the cookies.
Take out mixture and start forming walnut shaped balls.
Roll balls into the confectioner's sugar until it's white.
Place on a baking sheet with one inch in between each one.
Press the top of the balls gently so a dent could form. Garnish the dents with raw almonds.
Bake for 12-15 minutes. You'll know they are done when you see the cracks forming.
SaveSave
SaveSaveSaveSave
SaveSave
SaveSave
SaveSave
SaveSave
SaveSave
SaveSave
SaveSaveSaveSaveSaveSave
SaveSaveSaveSaveSaveSave