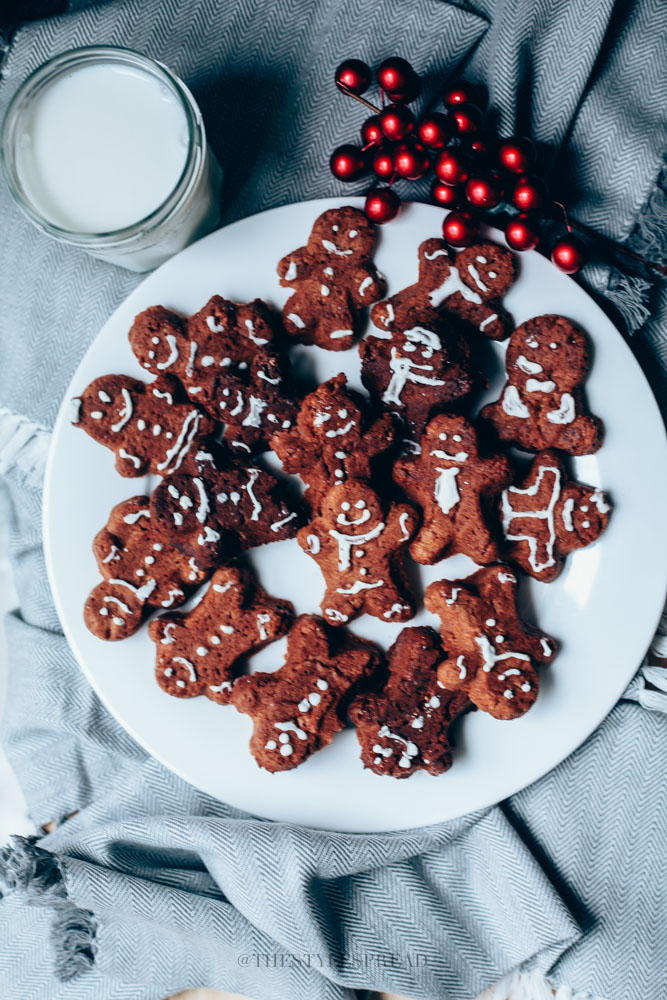 For the holidays, we baked gingerbread cookies! Maggie had such a great time assisting me in preparing the dough and designing the cookies. My mom also designed her fair share of gingerbread men. It was a great family bonding moment.
I have to be honest in saying that this was one of the most difficult recipes. Not because the ingredients were difficult to get but because our oven is currently out of order. So, I had to take some baking supplies to my mom's house. And for the things I forgot, well too bad; I had to purchase those ingredients again. I was also nervous since it was my first time baking cookies. And we were missing molasses and the vegetable shortening. However, honey and butter were great substitutes. For the full recipe, see below.
Ingredients:
3 cups of flour
1 tsp. baking soda
3/4 tsp. ground cinnamon
3/4 tsp. ground ginger
1/2 tsp. nutmeg
8 tbsp. melted butter
1/2 cup granulated sugar
2/3 cup of molasses or 1/4 of honey
1 large egg
Pam cooking spray
Icing
Directions:
1. In a bowl, mix the flour, baking soda,ground cinnamon, ginger, nutmeg, granulated sugar and honey. Don't mix yet.
2. In a small pot, add the 8 tablespoons of butter. Stir until fully melted. Turn oven on to 350 degrees. Warm it for 15 minutes.
3. Add the melted butter and the egg to the mix. Begin stirring the mixture. The butter and egg helps the ingredients combine better. Mix until you get a soft textured dough that you can mold by hand.
4. Spray the cooking spray onto the cookie pan, preferably butter. Or if the cooking spray isn't available, butter the pan with your fingers. Start molding the dough into the gingerbread cookie pan. Make sure to leave room in the molds for the cookie to expand. Mold the shape as best as you can with your fingers.
5. Insert the pan into the oven. Leave baking for 25 minutes or until top of cookies are brown with slightly darker edges.
6. Take cookies out of oven and leave to cool off for 15 minutes. After this, you can start decorating the gingerbread cookies with icing. Leave cookies out for 10 minutes so the icing can harden. Pour a glass of milk and enjoy!
Happy holidays to everyone!