Jump to recipe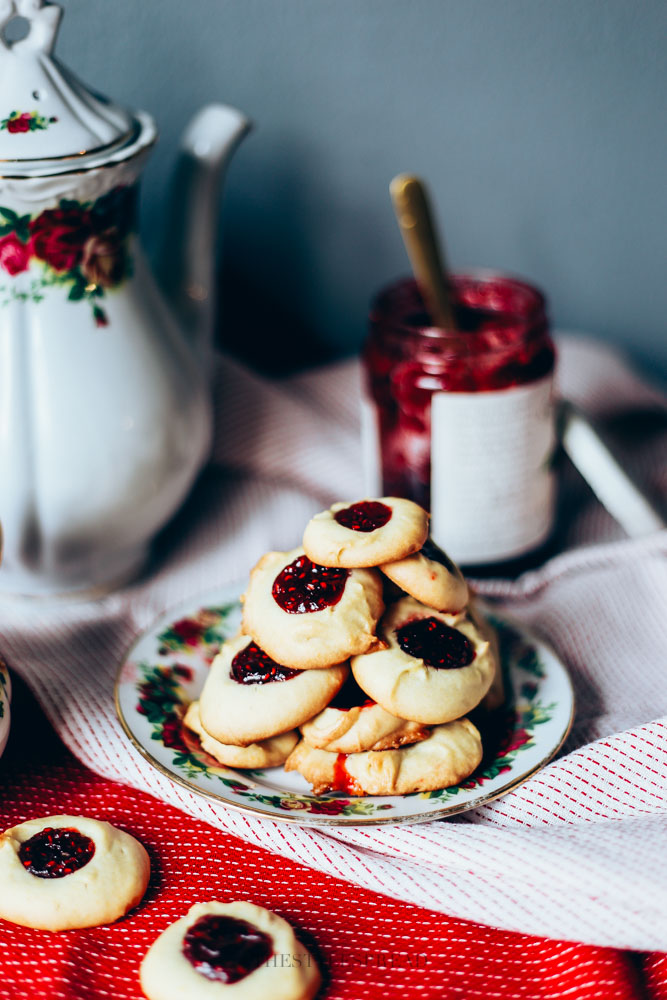 It's almost Christmas and I still have Christmas shopping to do. But instead of getting that done, I stayed in baking raspberry filled thumbprint cookies. They're great cookies to bake for the holidays besides gingerbread cookies. They just look so festive and fun to make.
Maybe it's the jam filling that makes them perfect for Christmas. Below is a recipe that I followed to make these tasty treats. Enjoy!
Raspberry Thumbprint Cookies
Ingredients
INGREDIENTS

1 cup of unsalted butter
2/3 cup of sugar
1 large egg yolk
2 tsp. of vanilla extract
1/2 tsp. of salt
2 1/4 cup of flour
1/2 cup of jam (for these I chose raspberry jam with seeds)
Instructions
INSTRUCTIONS

Preheat oven to 375 degrees.
Melt butter in a saucepan and leave place in refrigerator to cool off for a few minutes.
Mix salt and flour together in a bowl.
In a separate bowl, beat cooled butter, egg yolk, vanilla extract, and sugar until batter is fluffy. 
Take a small 1-inch round spoon, and use it to place dough onto the baking sheet.
After this is done, you can gently press on the dough with your thumb. If you find your thumb sticking on the dough, just wet your thumb with water and it will do the trick.
Place baking sheet in the oven. Bake for 10 minutes. You may notice that, after the 10 minutes, the dough has expanded and the thumbprint may be going away. Take the cookies out and press firmly down with the back of a small spoon. 
Before you put them back, fill in the thumbprints with jam.
Now, you can bake for an additional 5 minutes or until the cookies look golden.