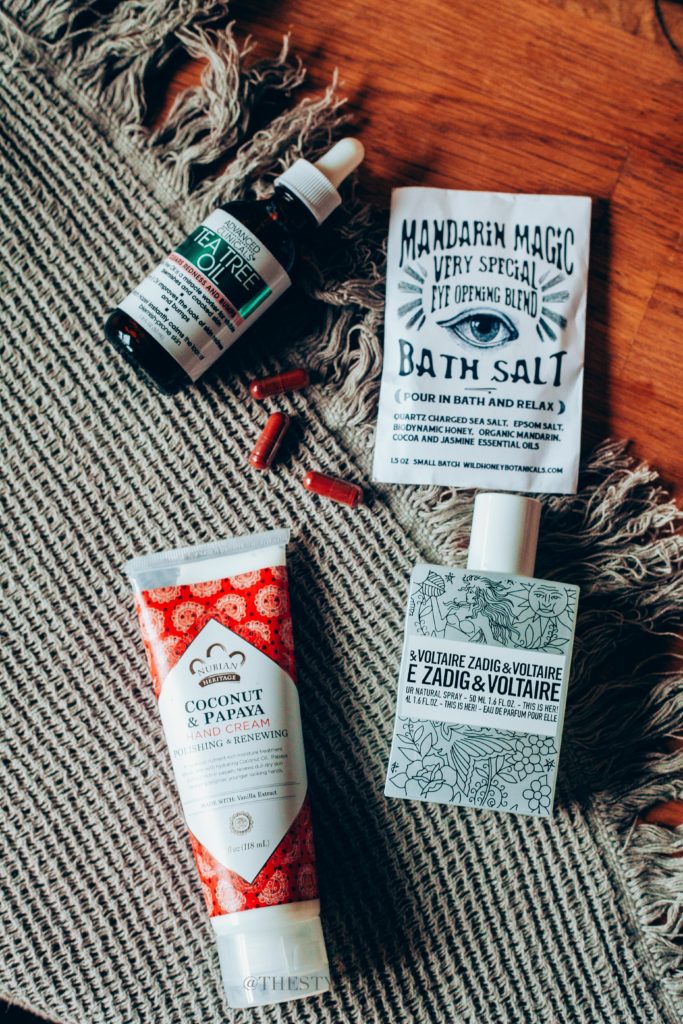 I'm a firm believer of chemical-free, natural beauty products. They aren't just free from chemicals but they actually work. Just like herbs and plants have their own little magic, so do these products.
01. Nubian Heritage Coconut and Papaya Hand Cream
Made with various rich butters, including shea and cocoa butter, this coconut and papaya cream leaves the skin feeling replenished and moist. It makes a wonderful hand cream especially cause I wash dishes and suffer from dry hands. I don't only use it for my hands but for my face as well. It's one of my favorite creams cause it's also made of coconut oil, aloe leaf, and hibiscus. Let's just say it's a blend of natural goodness.
02. Zadig et Voltaire This is Her! Parfum
I didn't think I would find my favorite scent but I did. Or shall I say it found me? Well, yes it did find me. I received it as a gift and fell in vanilla-chestnut heaven. While this isn't a natural product, it reminds me of nature. It's made up of woody scent tones including Sambac jasmine, sandalwood, and pink pepper. The bottle art, created by NYC tattoo artist Virginia Elwood, is super cute too.
03. Mandarin Magic Bath Salt by WildHoney Botanicals
This quartz charged sea and epsom salt is great for baths. I usually take salt baths during the new moon so I could cleanse myself and set new goals. You don't have to have a ritual to enjoy this salt. It's a good exfoliator for the skin. And if you enjoy the scent of Jasmine, then you'll enjoy this bath salt.
04. New Chapter Vegetarian Capsules
Okay, so this was a gift too and, I have to be honest, when someone hands me a bottle of pills…well, I have to think twice about it. But once I read the ingredients and did my own research, I gave them a try. The main ingredient is algae and astaxanthin, which have been proven to improve skin elasticity. Other ingredients are maca root, chamomile, peppermint, coriander, cardamom and artichoke. The maca root and chamomile improve stress and energy levels. And the biotin supports natural production of keratin. I mean, this product sounds like it does everything, right?
05. Tea Tree Oil
They say tea tree oil helps different skin conditions including redness and blemishes. I have used it on my face but I prefer to use it for my feet. For some time I had cracked, dry feet that wouldn't improve but was getting worse. I would exfoliate my feet and the smoothness would be gone the next day. Once I slathered the tree oil on my feet after exfoliating, the dryness stopped. It was like a miracle.
SaveSave
SaveSaveSaveSaveSaveSaveSaveSaveSaveSave
SaveSaveSaveSaveSaveSave
SaveSave